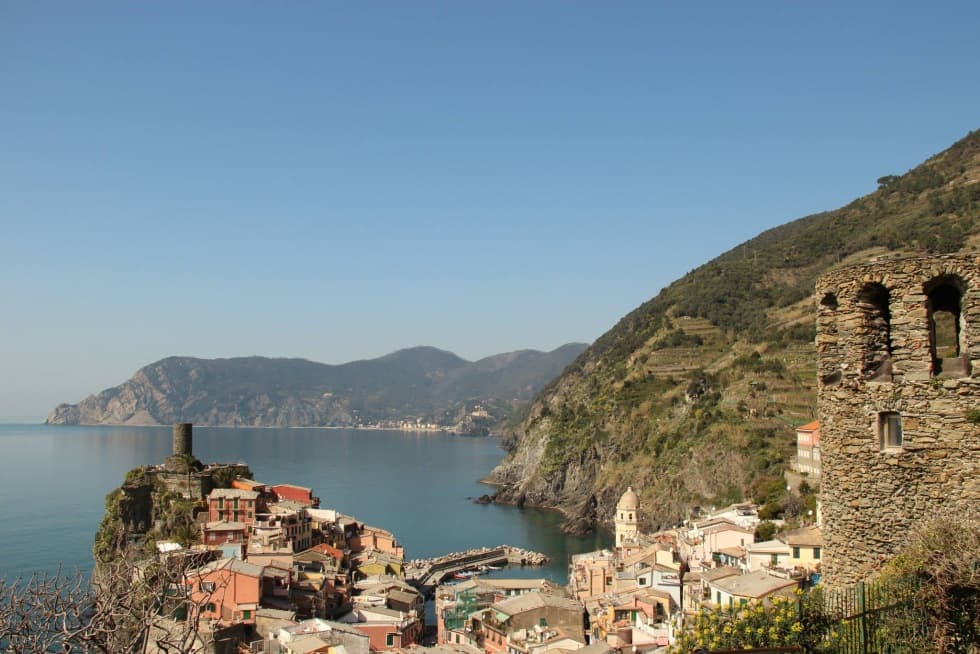 Among the things to do in Cinque Terre, a hike along the blue trail from Corniglia to Vernazza is certainly an excellent option! We did it a few days ago, and we can not recommend it highly enough!
We left Levanto in the afternoon with the 16:38 train and got in Corniglia in less than fifteen minutes. The train station is on sea level, while the village is perched on a cliff about 100m higher. Stairs leading to the village, "Lardarina" offers a beautiful landscape, but if you prefer, you can also take the bus ;)
Corniglia
Before moving along the path, you should take a walk to the village, which has origins dating back to Roman times and whose name derives from the Gens Cornelia, which owned the land and developed grapes and olives.
Via Fieschi, for instance, is a beautiful example of Ligurian alleys, full of small typical shops. It leads to the main square, Largo Taragio, with the Oratory of Santa Caterina and the above tiny square with an amazing view, the so-called Fosso. Then, continuing along the road, you get to the Belvedere Santa Maria … a view of paradise…
Corniglia to Vernazza
Coming back, pass by the church of San Pietro, and from there proceed along the alley that leads to the path n ° 2. Corniglia, seen from this point, is stunning.
The path plunges immediately into the maquis, with its smells and its deep green. Past the small bridge over the Rio Groppo, you start to climb along a beautiful trail with steps, surrounded by olive trees and dry stone walls.
After a series of panoramic bends, you reach the hamlet of Prevo, 205 meters above sea level. From there, you start walking downhill between incredible lush overlooking the sea, till the so-called Basin of Macereto.
After a few minutes, you get above the medieval watchtower and discover Vernazza, like on a perfect postcard!
The walk continues down through the narrow alley, on the seaside, in vernazzese "luvegu" cause always in the shade and therefore more humid, till the famous square on the seafront, where you can sit and admire the beauty around sipping a glass of Cinque Terre DOC
Do not leave without visiting the church of Santa Margherita d'Antiochia and Castello Doria! Even better if you can take your time and "get lost" walking around throughout the tiny side alleys
You'll love it.
* Suitable footwear recommended!
* Path takes approximately 90 minutes.
* Please note that the blue path n° 2 is a paying path and you need to purchase the Cinque Terre Card.