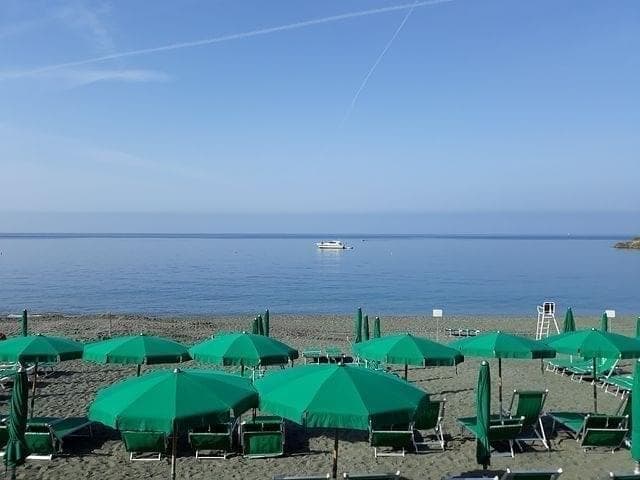 The beach in Bonassola is our favorite!
When our guests ask us where to go to the beach between Framura and Cinque Terre, we have no doubt and always recommend going to Bonassola!
The beach is only 10 minutes by bike along the beautiful bike path. You can ask us both the bikes and the beach towels and even a beach umbrella if you opt for a free beach, all included in our services!
In Bonassola, there are three private beaches and as many beach bars. To access those beaches, you must rent a sun-bed / deckchair for the day or only for half a day, and if you want, you can also rent a beach umbrella and a cabin (private beach dressing room). If you decide in advance, we can call and book everything on your behalf.
The chicest private beach is the middle one, in white and blue stripes, the historic San Giorgio; the neighboring one, Sabbie d'Oro in green, is smaller, and the coolest is on the left. This is because of the gulf, in orange, with restaurant service for both lunch and dinner!
The free beaches are strips of sand between the various private beaches, and then you get a wider strip at each end of the bay.
If you prefer, you can, of course, reach Bonassola also by train or on foot (30 minutes along the pedestrian-cycle path on the waterfront or a 50 minutes hike along the splendid SVA path that passes through the hamlets of Scernio and Serra).
As you will be there, don't skip the visit to the tiny pink church on the rocks, the Madonnina della Punta. The easy walk till there is really a beautiful and scenic one and the church so romantic… You won't regret it.
Enjoy the beach!