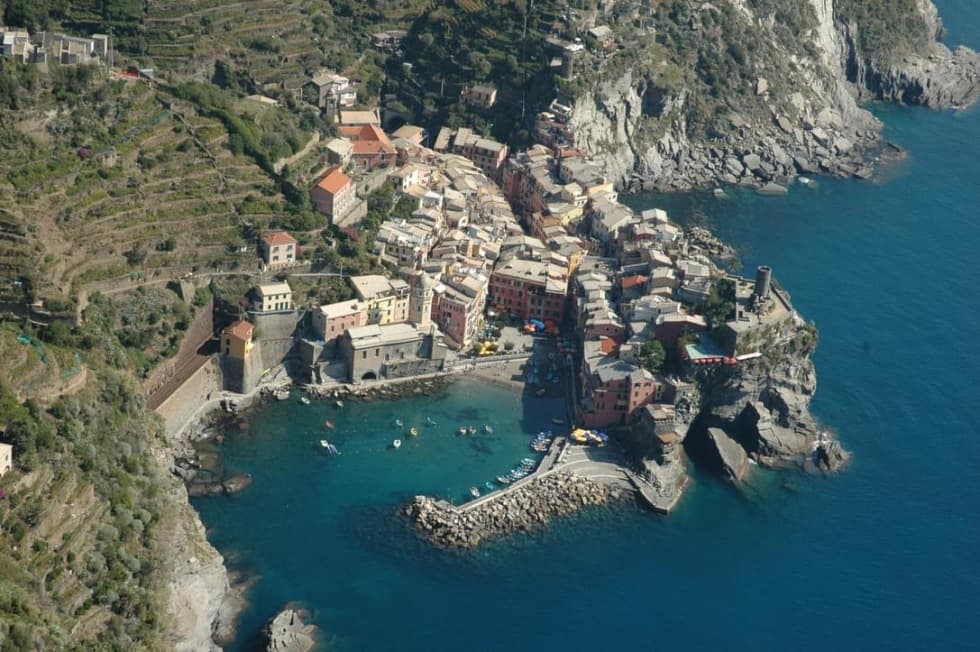 Yes, some Vernazza's traditions might look a bit crazy…
Vernazza is world-famous for its beauty, for being a UNESCO site within the Cinque Terre, its wine, and its cozy colorful restaurants on the main square.
Vernazza is amazing, as amazing are its kids and their crazy jumping-in-the-waves tradition!
They do that from the Ventegà, the small pier below the ancient Belforte bastion, where during summertime ferries dock. Then, they plunge in the undertow to get back on the pier with the wave.
To have an idea, watch this short video shot by a French tourist:
not to mention the wonderful pics taken by our friend Sasha.
A true performance attended by lots of amused or shocked people.
No need to say that it is dangerous and to do that you need to know the rocks around the pier perfectly, the local sea currents, and being a bit crazy yourself… ;)
Visit Vernazza
To visit Vernazza and fall in love with her (yes, she's a Lady), I recommend getting there before 9:00 a.m. or after 5:00 p.m. Being the pearl of the Cinque Terre from a photographic perspective means it's also the most visited during the day. However, morning and evening are still excellent moments to appreciate.
Anyway, I highly recommend not going by car! The train is convenient, cheap, and frequent, and in this article on the Cinque Terre Express, you will find all the information you need to take from Levanto.
For an unusual walking itinerary through Vernazza, I recommend this article to tell you about my birthplace and its perfumes.
Local wine
Once in town, do not miss a visit to the Cheo Winery! It is located a few hundred meters from the station and organizes tastings every afternoon.
In 2011 they lost almost everything because of the Cinque Terre flood, but they did not give up on despair, and their wine even improved. My favorite one is their Perciò ;)