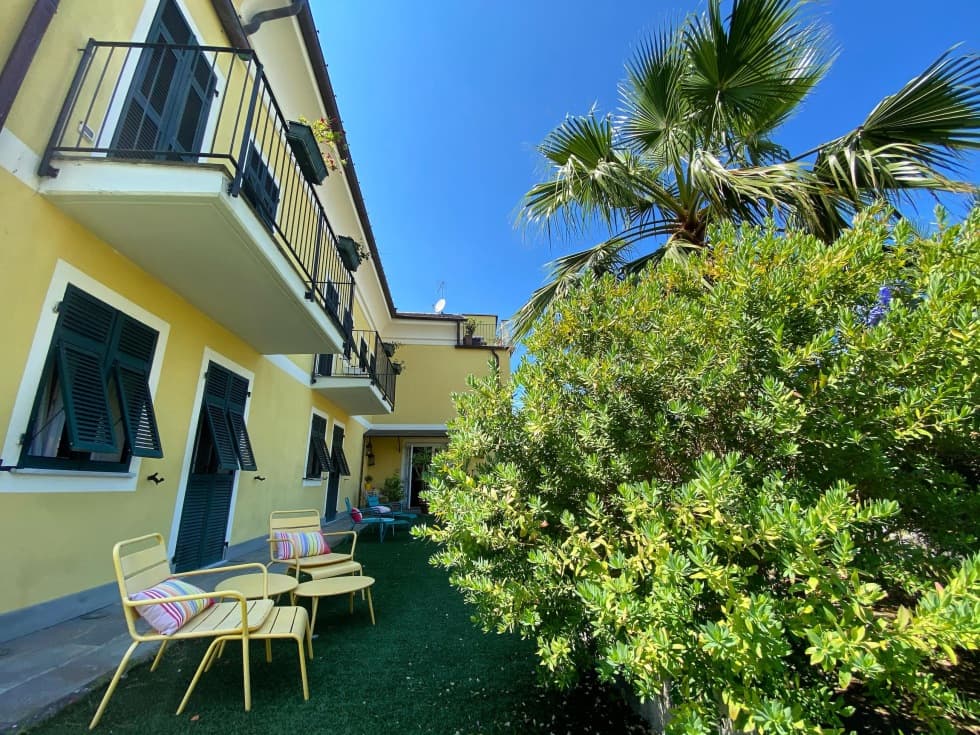 Well, if you are wondering where to sleep in Levanto the answer is at the Oasi boutique hotel, right downtown!
However, our boutique hotel is a small one, with just 14 double rooms, and is easily fully booked several weeks ahead. We, therefore, decided to write this post with the options we recommend in case you try to stay at the Oasi and can't find an available room.
Sleeping in Levanto to visit Cinque Terre
Before sharing our Levanto accommodation tips, we just wanted to confirm that Levanto is a great choice if you plan to visit Cinque Terre and the super romantic Gulf of Poets, Portofino, even Genoa and Pisa.
Our village is a medium-size one, providing all the services and facilities that the 6000 local people need and plenty of tourist services such as cool bars and restaurants, beach clubs, bike, e-bike rentals, travel agencies, etc.
So, to sum it up, Levanto is a lovely, mostly car-free village, where you'll be happy to slowly start your days as much as to come back in the afternoon after all the hustle and bustle in the other touristy villages.
For more info on the village you can check this post
Visiting Cinque Terre from Levanto
To visit Portofino, San Fruttuoso and Camogli
The best accommodation in Levanto
Finally, these are the hotels we recommend in Levanto when our charming boutique hotel is fully booked.
Oasi Hotel
You're already browsing our own website to find all the info regarding our hotel in a few clicks, but to help you, these are our cool services, and this is a short description of our rooms.
To check our availabilities, rates, and special offers, you can enter the check-in and check-out date in the red bar at the bottom of this page or send us an e-mail or text us at +39 338 163 7272.
Entering this code in the "coupon" box on our website you'll even get a reduction: WBOASI1
Villa Margherita
Villa Margherita is probably the most similar solution: a quiet position, with a pretty garden and charming rooms. The average rate is very similar to our own. It's run by Federico.
Hotel Garden
The Hotel Garden is just a few meters from the beach. It's a 3 stars hotel and provides most of the same facilities as the Oasi. Same as before, our rates are pretty much on the same level. It's very well run by Davide and Damiano.
Hotel Carla
The Hotel Carla is just 200m behind the Oasi. It's also a 3 stars hotel. A bit bigger and very elegant after the recent renovation. It's runny Saverio who grow up in the hotel.
La Gerbera
La Gerbera is a pretty B&B. It's a very convenient solution not far from the Oasi. Being a B&B, the in-room breakfast is elementary, but the garden is very nice, and it's run with love by Doriana.
Hope to welcome you very soon at the Oasi!