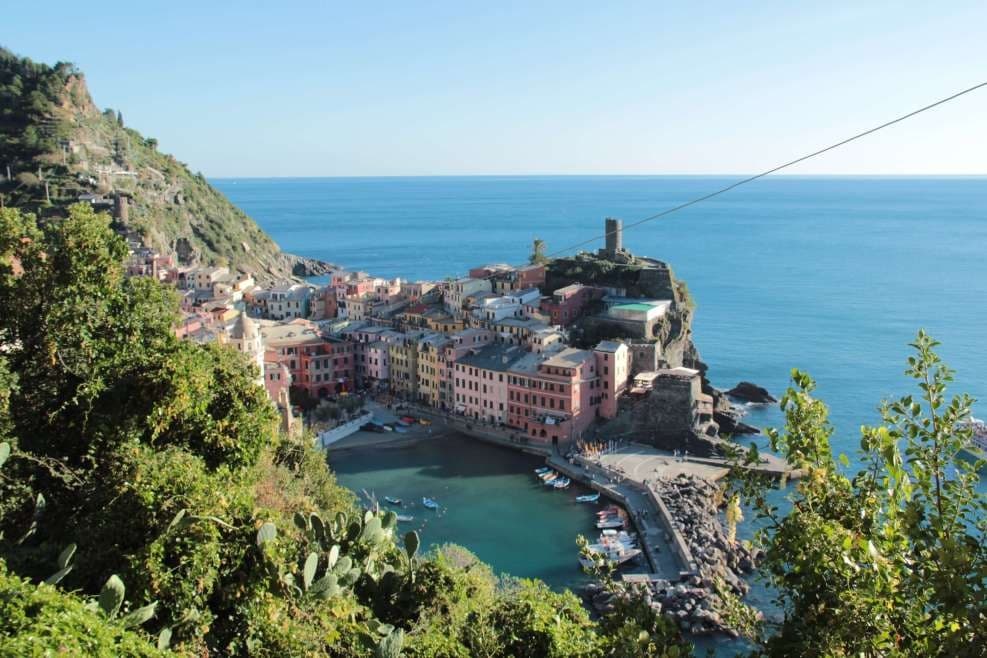 Cinque Terre's blue path is one of the region's tourist highlights, and a few weeks ago, I hiked it. I walked with my colleagues Raffaella and Jenni to the last section of Cinque Terre blue path blue trail n° 2, connecting Vernazza to Monterosso.
Well, it's not an easy path, with plenty of natural stone steps and quite a lot of up and down, but what a view! It's really worth it!
We left Levanto with the 3:32 pm Cinque Terre Express train, just like last time, and got in Vernazza ten minutes later.
Knowing the village so well, to avoid the crowd of tourists on the main street, we took the side alley on the right of the train station, via Del Santo. We walked between pretty doors, flowery windows, hanging clothes, and daily life noises. Always charming… the alley, once known as Caruggio de l'Axeu (i.e., vinegar alley), continues directly into the Cinque Terre blue path.
If you decide to walk along via Roma, the trail starts just above the church. Once on the square, take the stairs on the right-hand side looking at the sea, between restaurant Vulnetia and Il Capitano.
Cinque Terre blue path
Right after the Cinque Terre National Park's tiny cabin, where you need to purchase the Cinque Terre Card, you start hiking up along a narrow path among olive trees overlooking the blue sea and my lovely village, that seen from this trail is stunning!
It took us 1h40 to reach Monterosso, and we got there just in time to admire the sun setting on the Mesco Peak and the sea.
Once downtown, we went directly for a glass of local white wine and yummy cheeses and cold meats at Balena Blu. Still, if you never visited Monterosso, you should first visit the pretty ancient village with its nice shops and the church of San Giovanni Battista. On the other side of the waterfront short tunnel, there's the new "district" of Fegina, where Eugenio Montale spent his summers and where you get the train station and above all the only proper beach in Cinque Terre!
In case you want to have dinner here, my favorite seafood restaurant is Il Ciak in the ancient part of Monterosso, but there are plenty of wine bars, restaurants, pubs, and pizza places all around and I'm sure you'll find the right one for you :)