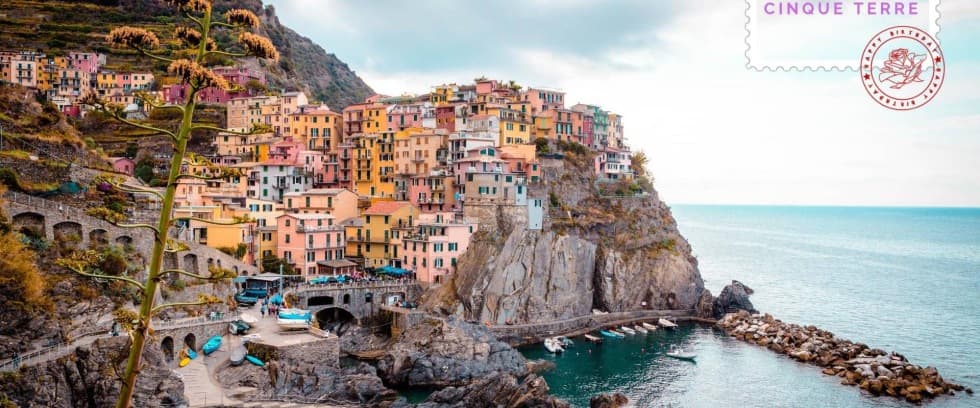 Speaking of Cinque Terre, postcards may seem a strange topic, but I decided to write about it for various reasons, and they all have to do with the satisfaction and success of our guests' holidays.
For many visitors, the Cinque Terre are postcard villages, meaning that by now for many, the main purpose of spending their holiday around here is to see first-hand the glimpses portrayed in the photos that go online every few moments on Instagram and other social networks and, possibly, take the same photo, perhaps reproducing it with even brighter and more saturated colors …
However, there are still many people who, in addition to the souvenir photo and the "like catcher" ones, love to send postcards to friends and family and, if you are part of this group of people, this article is for you.
Where to buy postcards of and in the Cinque Terre
Well, of course, you can buy them wherever you want! They are now on sale in any commercial activity: from the most traditional stationeries and tobacconists to various souvenir shops or those of typical products. They are often found in bars.
My advice obviously is to choose the less trivial and standard ones, which you really find everywhere, but this is my personal taste and opinion …
If you are staying at the Oasi, you can buy Cinque Terre postcards even at the hotel, and I guarantee you the originality: these are my own shots, and whenever we have to reprint them, to satisfy returning customers and not to get bored, I always select new pics.
The cost of a postcard in Cinque Terre ranges from € 1 to € 3/4, depending on the size and place of purchase. Ours cost € 1.20.
Where to buy stamps
Here we are, this is the real theme.
My advice, as if I were in your shoes: don't buy them at souvenir shops, tobacconists and stationery stores! By now, they only sell stamps from private companies that, in addition to having a higher cost, you can only ship from special mailboxes located at the stores themselves and will be delayed up to a month to reach their destination.
If you are wondering why such a delay, as I did the first few times that my guests got the problem, it is quite simple: it is not the regular postman who collects the mail from those private boxes every day, but a special service that collects postcards only every 3/4 weeks.
So, my advice is obviously to go to the post office, as we all always did. In the morning it's usually quite crowded, so better to get there at lunchtime or in the afternoon, around 3 pm.
Again, if you are our guest, we'll take care of stamps: standard rate and daily shipping.
Postage stamps rates: € 0.95 for Italy, € 1 for Europe and Israel, € 2.20 for the Americas, Asia, and Africa, and € 2.90 for Oceania.
Where to post the postcards
If you follow my advice, trivially in traditional postal boxes and Italy, they're red or sometimes blue to foreign countries. You usually found them outside post offices and around tobacco shops.
If you purchased a stamp of any other type, you could post the postcard at the store where you purchased it or check the map with the various collection points on the website indicated on the stamp itself.