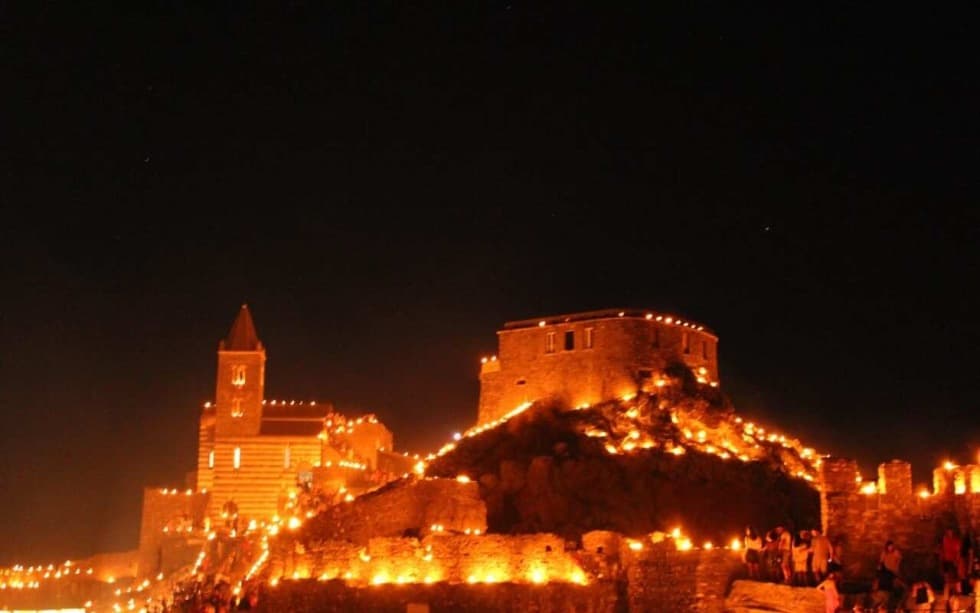 On August 17th Porto Venere will celebrate the so-called Madonna Bianca, among pure beauty, folklore and devotion. A traditional festival that always succeeds in moving people from all over the world.
The evening celebration program:
At 8.30 p.m., the Holy Rosary
At 9.00 p.m., the procession accompanied by the Riomaggiore Music Band
The history of the Madonna Bianca in Porto Venere
In 1399, Porto Venere and Genoa were torn apart by intestine discord, lost their freedom, and in the end had to wave a foreign banner on the city castle. Additionally, a terrible plague was slaughtering the whole region.
While the devoted patron Lucciard was praying in front of his home's holy paintings, one of them - a discoloured parchment drawn with a pen in the '300 - slowly got its colours back, revealing a White Madonna together with the Child and two small figures of saints on her sides.
Many witnessed what was judged as a miracle of the Savior of the village, as documented by the legal act kept in the church of San Lorenzo with the precious icon itself.
It is said that the painting, still exposed in the church, came from the sea in 1204, in a trunk of cedar from Lebanon. At that time, the returning ships from the Holy Land carried boxes made of trunks to keep such objects, sealed and thrown at sea in case of storm or pirate attacks.
The ferry from Levanto
A night ferry departs from Levanto's pier to Porto Venere at 7.30 p.m. and comes back after the festival, at around 11 p.m. The ticket costs € 30 and to avoid queuing last second to buy tickets, we recommend you buy them in the morning.
Sailing to Porto Venere in the evening is always amazing: an experience crowned by a splendid sunset over the Mesco Peak and an unforgettable sight on the Cinque Terre. Plus, Corniglia from the sea looks like an enchanted nativity scene.
A choir of stunned "ohhhhhh" always announces the arrival in Porto Venere. The view of the cliff and the Church of St. Peter illuminated by thousands of candles leaves everyone breathless, and even for those who already know what to expect is always a powerful emotion.