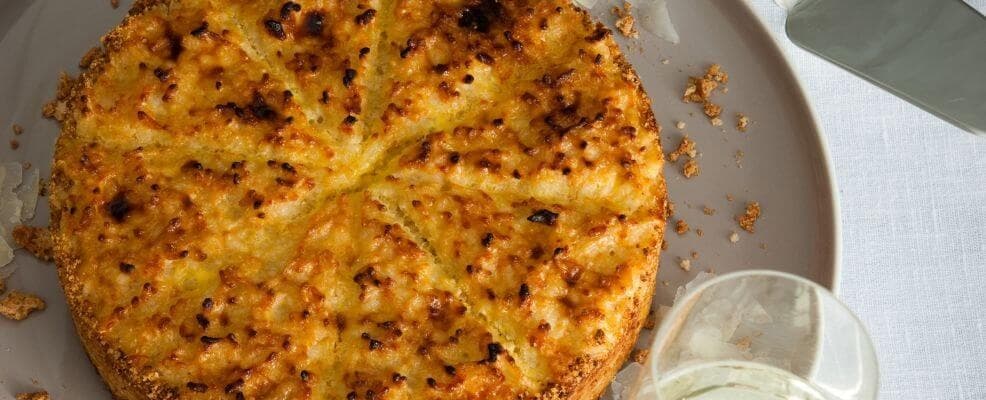 The rice cake
The traditional Ligurian cooking style is mainly "poor," or so it was born, and the rice cake makes no exception. A cooking style for farmers and sailors, using local products and exotic spices coming in through the harbor of Genoa.
Apart from being economical, its main purpose was to be long-lasting, fill up a hungry stomach, and be still yummy even when eaten cold. To sum up, the Ligurian cooking tradition is perfect for hiking days or boat trips!
Among our traditional specialties, we find the Torta Pasqualina (i.e., Eastern pie), stuffed vegetables, focaccia of all different kinds, farinata, salted anchovies (a good traditional remedy against seasickness, or so the old sailors say), and obviously pesto and vegetable soup, which is often tastier the day after it's been prepared. We will cover all these recipes in the future, but today we're telling you about the one recipe I prepare weekly at home, the salty rice cake.
In Liguria, you can find it anywhere, both on the coast and inland, from the supermarket to the bakery to the food store and especially in people's homes.
It can be eaten during any meal or as an isolated snack. It's good when lukewarm, and it's great when cold, and for all these reasons, I love it.
There is no "holy" recipe like the pesto one, and every family cooks it in their own way so that you might taste very different ones, including the sweet variations!
For example, I like it crunchy and without dough like my grandmother used to prepare it, while my mother cooks it in a very different way, and I have to admit that it is good nonetheless.
After various experiments, here is my own version of the recipe:
300 gr of rice
3 eggs
100 gr of grated parmesan cheese
olive oil
salt
pepper
nutmeg
Cook the rice and, once drained, add olive oil and stir to cool it. In the meantime, turn on the oven. Then add eggs, parmesan cheese, other oil, salt, pepper, and nutmeg to your liking. You can also taste it at the same time to get to the degree of seasoning you like.
If you like it softer, you can also add some milk and/or spread it over the pasta. Finally, pour the mixture into a grated pan on which you can also sprinkle some Parmesan cheese. Bake at 180 ° for about 35 minutes. The rice cake is ready when the surface becomes golden.
Enjoy your meal!