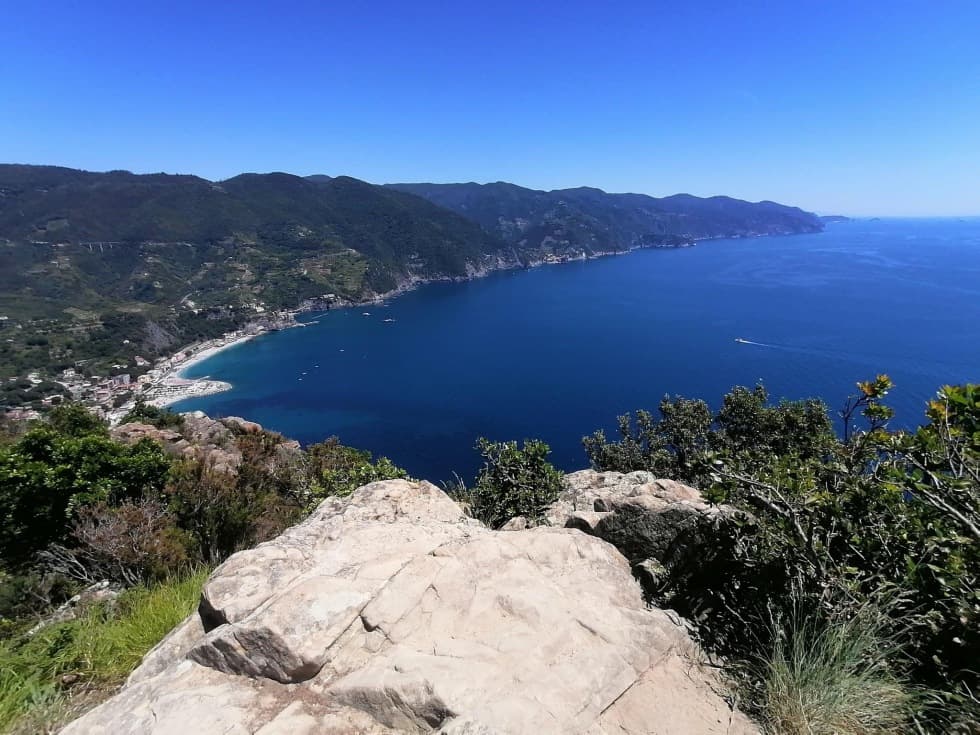 The most panoramic trail in Cinque Terre is by no doubt the hiking path n°1 connecting Levanto to Monterosso al Mare.
Walking time: 2 hours and 30 minutes
Itinerary partially marked (white-red, trail n° 1 and n° 10)
Yesterday afternoon we walked along path n°1 that leads to Monterosso, and it was beautiful! Relax, nature, breathtaking views, and Mediterranean scents of spring … a feast for the senses!
Trail from Levanto to Monterosso al Mare
The path from Levanto to Monterosso al Mare starts from the Castello De Rossi built on the ancient castle of the Malaspina. From here, take the wide cobbled pedestrian street that rises steeply above the park of Villa Agnelli, offering a wider view of Levanto and its bay.
Further along, Casa Massola, the famous "Red House" from whose terrace in 1930-31 Guglielmo Marconi performed the first experiments of short-wave transmission. A white marble plaque on the front still remembers him.
The path proceeds between the villas and within a wooded area, and you are suddenly surrounded by a different landscape, almost fairy-tale.
After the junction for Panigo, continuing on a beautiful trail (trail no. 1) leads to the paved road.
The climb takes place in the middle of the Mediterranean bush, expressed in the widest variety: heather, myrtle, arbutus, mastic, pine, and Aleppo pine.
A flat stretch indicates the arrival at Case Lovara (248 m), from where a spectacular ascent begins where the trail, made by large stone steps, faces multiple times on the craggy coast.
It continues uphill on the old trail up to the Sella del Torrino (360m), where there are the ruins of a watchtower, and after the junction up to the Selletta del Mesco (310 m).
Turn right for a short visit to the ruins of the church of Sant'Antonio (XIII century), an ideal place for a stop and admire the scenery.
Back to the fork, continue direction Monterosso following maker n°10. Here begins the long descent of steps leading to the top of Monterosso and the road to Fegina beach.
Upon arrival, it is impossible not to take a picture of the imposing bulk of the Giant, a statue of Neptune made of reinforced concrete that supports a terrace shaped by a large shell.
If you prefer to walk longer and get even better views, we recommend an option via Colla Bagari and the Shrine of Soviore.