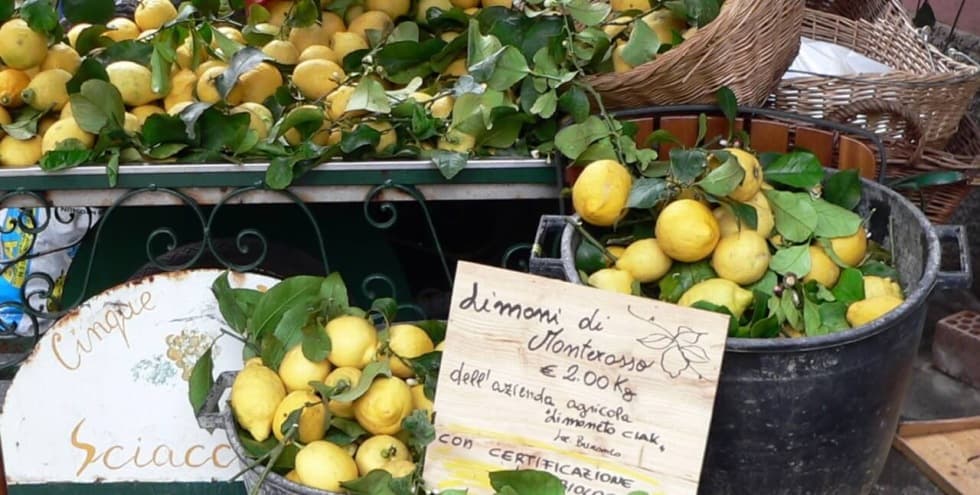 Among the questions that our guests ask us most frequently, there are two very similar to each other: "It's called Limoncello or Limoncino?" or "What is the difference between Limoncino and Limoncello?".
Limoncino or Limoncello? In the Cinque Terre only Limoncino!
Well, around here there is only Limoncino, while on the Amalfi coast it's Limoncello … It's not really the same thing, in the sense that ingredients and preparation are the same, but the time of maceration and infusion not and this causes the Campania one to be is slightly creamier and in my opinion a bit heavier.
Limoncino is a liqueur made from lemon, served chilled after meals, and often used to prepare desserts for those who do not know what we're talking about. Here in the Cinque Terre, it is characterized by the quality mark of the National Park and is produced and sold by local wineries.
Besides wineries, it's also produced at home, and if the basic recipe is the same, the timings vary from family to family, like any self-respecting local tradition.
Our recipe for Limoncino
You need:
eight untreated lemons
a liter of alcohol for spirits at 95%
one liter of water
one kilo of sugar
First of all, you start by carefully wash your lemons! Then dry and peel them with a boxcutter or with a vegetable peeler, taking care not to include the white bitter skin that covers the lemon.
After removing all the peel, dip it in alcohol, cover the jar with a ceramic pot and let it stand in a cool, dark place for seven days.
At the end of the week, melt the sugar in a little water to prepare the syrup to add to the jar with alcohol and peel. Cover with the pot once more and let stand another seven days.
Then add the water while carefully stirring the spirit and get ready for bottling. Put a funnel covered with gauze into the bottle and pour the liquor slowly, using a ladle.
Keep the bottle of Limoncino in the freezer and enjoy it.
The Lemons Festival in Monterosso
If you visit in mid-May, remember that during the third weekend of the month Monterosso is tinged with yellow for the traditional Lemons Festival.
Every year several themed events are scheduled, the shops in the village set beautiful windows, and delicious tastings are arranged in every corner—Limoncino tastings, of course, but also lemon cream, jams, cakes, and other delicacies. A day not to be missed!
Lemons by Eugenio Montale
In the collection of poems "Ossi di Seppia" (i.e., cuttlebones) by Eugenio Montale, if you read Italian, there's a beautiful poem speaking of lemons…
Ascoltami, i poeti laureati
si muovono soltanto fra le piante
dai nomi poco usati: bossi ligustri o acanti.
lo, per me, amo le strade che riescono agli erbosi
fossi dove in pozzanghere
mezzo seccate agguantanoi ragazzi
qualche sparuta anguilla:
le viuzze che seguono i ciglioni,
discendono tra i ciuffi delle canne
e mettono negli orti, tra gli alberi dei limoni.
Meglio se le gazzarre degli uccelli
si spengono inghiottite dall'azzurro:
più chiaro si ascolta il susurro
dei rami amici nell'aria che quasi non si muove,
e i sensi di quest'odore
che non sa staccarsi da terra
e piove in petto una dolcezza inquieta.
Qui delle divertite passioni
per miracolo tace la guerra,
qui tocca anche a noi poveri la nostra parte di ricchezza
ed è l'odore dei limoni.
Vedi, in questi silenzi in cui le cose
s'abbandonano e sembrano vicine
a tradire il loro ultimo segreto,
talora ci si aspetta
di scoprire uno sbaglio di Natura,
il punto morto del mondo, l'anello che non tiene,
il filo da disbrogliare che finalmente ci metta
nel mezzo di una verità.
Lo sguardo fruga d'intorno,
la mente indaga accorda disunisce
nel profumo che dilaga
quando il giorno piú languisce.
Sono i silenzi in cui si vede
in ogni ombra umana che si allontana
qualche disturbata Divinità.