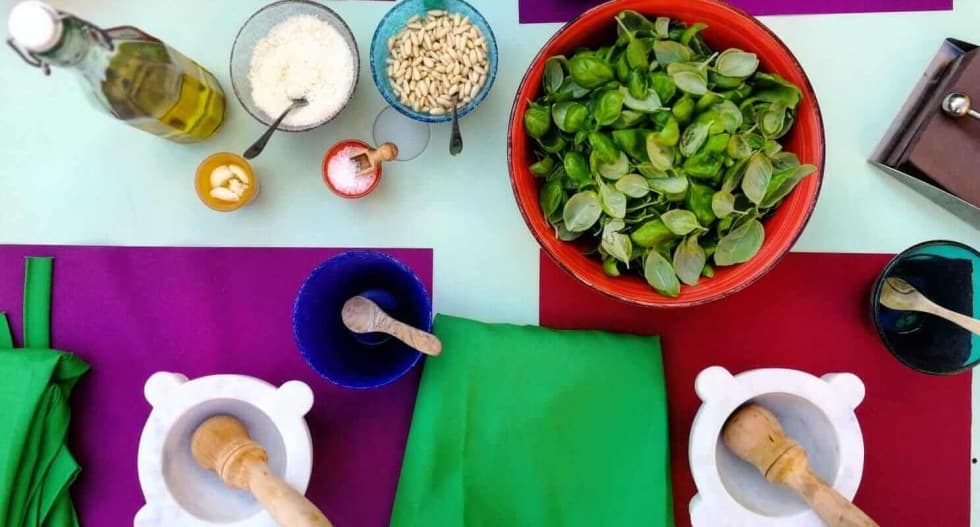 Genoese pesto cooking class, a yummy experience for our guests!
Genoese pesto is a cold basil sauce, ideal with fresh handmade pasta and unconventional yummy tapas! Plus, it was also Frank Sinatra's favorite ;)
I was born and grew up in the Cinque Terre area, then I left to live in Paris, and when I came back a few years ago, I re-discovered my region, traditions, food, and wine. Pesto is, of course, my favorite!
I can eat it every day without ever getting tired of it. I learned to prepare it the traditional way during a happy summer afternoon on my grandma's balcony, overlooking Vernazza Main Street. Sweet memory and cool knowledge.
I love to share the original pesto recipe and cool devices to fully enjoy it with foreign friends, and I'll be more than happy to share it with you too!
Our aperitif with Genoese pesto cooking class
This is the seventh season of this experience, and this year we'll be having our class every Friday and Saturday at 12:30, in our colorful garden and in case of bad weather we can move into the veranda.
It will last more or less one hour and cost 25€ per person, including all the ingredients, the focaccia, typical snacks, salty rice cake, and the essential glass of Cinque Terre wine ;)
You'll learn how to prepare it following the original recipe while sipping a glass of Cinque Terre wine, each one at your table with your own typical marble mortar and the needed ingredients.
Once the sauce is done, we'll taste it on local Genoese focaccia toasts!
During the experience, I'll tell you everything about this cold basil sauce, its ingredients, but also its conservation and the ideal pasta and recipes to go with.
Once back home you'll be able to impress your family and friends with a typical Italian Riviera meal!