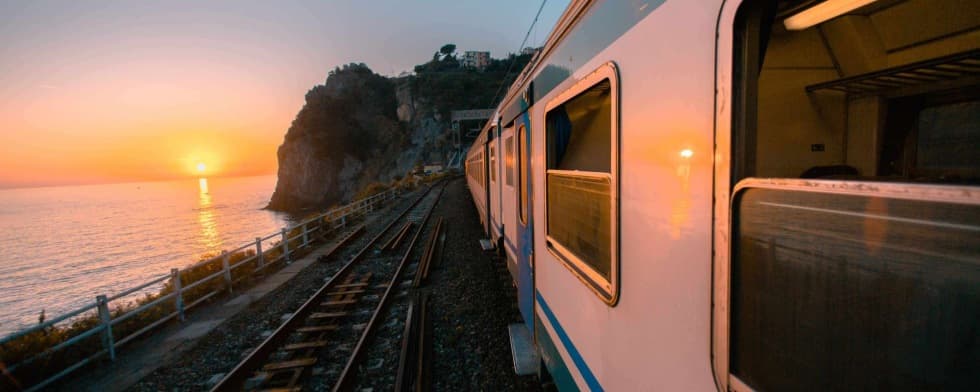 Visiting Cinque Terre by Cinque Terre Express train is the best option to visit the five villages and other towns along the Ligurian coast. Cinque Terre train is a regular and cheap service, running from before the sunrise and till 1 a.m.
From April 1st until November 1st to travel on regional trains that stop in the five villages of Cinque Terre (between Levanto and La Spezia stations), you can get Cinque Terre train single tickets directly at the train station or on the Trenitalia app, at € 5 per person for adults and € 2.5 for kids till 12 years old. It's free for toddlers till 4.
When coming from a village outside this line, from Bonassola for instance, you'll have to purchase a train ticket to Levanto and then a train ticket for the Cinque Terre Express Line (2.10€ + 5€).
Before getting on the train, remember to validate the 75 minutes one-stop ticket – intermediate stops are not allowed – in the gray-green machines on the platforms and underground corridors.
Cinque Terre Card
However, if you plan to take more than four trains in a day or to hike along trail n°2 and use the bus service to the hamlets and shrines, the best option is the Cinque Terre Card.
It includes unlimited train travels during the day, the admission to museums in the city of La Spezia, buses in the National Park, access to the hiking trails and the guided visits, hikes and tastings planned monthly and know as Cinque Terre Walking Park program. In the back of the card you also get a 24h free wifi code to be used at Info Points and train stations.
It lasts one day, two or three days and can be purchased at our front desk all day long, in order to avoid the queue at the train station! You'll get all the needed information on the dedicated post.
!!! The paper Cinque Terre Card, just like any other train ticket, have to be validated in the gray-green machines placed in the waiting area and underground corridor before getting on the first train!
Cinque Terre train schedule
Reading the timetable is quite easy: trains with no letters on the top line run every days and those with letters are exception, but you can fid the details noted on the bottom of the timetable.
To find your train simply follow the line corresponding to the village you're interested in and following the column you'll get the arrival time at your destination.
The schedule, and therefore this post, is updated quite often.