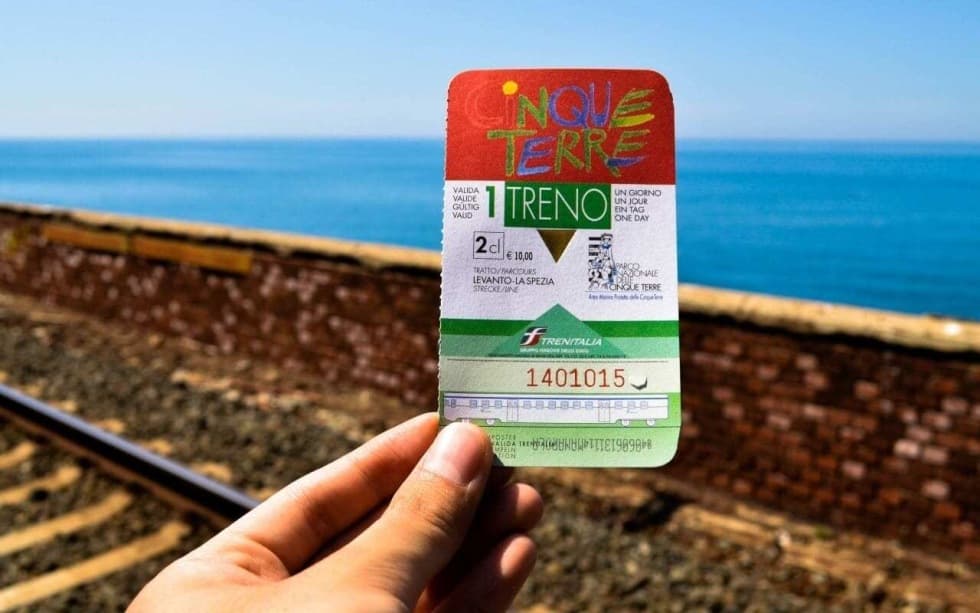 Cinque Terre Card, trails and more
What's Cinque Terre Card? Well, as you may know, Cinque Terre are five picturesque tiny villages on the Italian west coast. They are world-famous for their stunning but steep hiking paths along the waterfront connecting the villages and shrines in the surrounding hills.
To preserve these trails and paths originally build by farmers to reach their terraced fields, the Cinque Terre National Park introduced the Cinque Terre Card. It's a pass for visitors, also good for visiting several museums and riding the eco-friendly buses.
When you need to purchase the Cinque Terre Card
You need the Cinque Terre Card when taking more than four local trains per day or hiking the waterfront lower blue trail from Monterosso to Corniglia.
If you plan to visit three villages by train but not walk any of the connecting paths, you do not need a card.
When planning to visit the villages by ferry, same thing and again, you do not need it if you plan to hike the upper trails connecting Levanto to Monterosso and/or those connecting the villages to their shrines and the shrines to one another.
Don't worry about details, we'll be more than happy to help you with detailed info and tips once you're here!
You can buy the Cinque Terre Card in any Cinque Terre Info Point from Levanto to La Spezia, or, to avoid queueing once here, you can get it online.
If you're staying at the Oasi, just let us know when and for how many days you need it, and we'll take care of everything!
What's included in the Cinque Terre Card
When buying the Cinque Terre Train Card MS you get all these service:
Access to Cinque Terre Express trains (excluding trains IC / ICN / FB)
Access to the National Park paying paths
Guided tours according to Cinque Terre Walking Park monthly program
The use of the bus service run by ATC within villages
Free toilets in the villages
Laboratories of the Center for Environmental Education Park, according to program
Free WI-FI in the Park (train stations and Info Points)
The entrance to the Civic Museums of La Spezia (Amedeo Lia, Castello San Giorgio, CAMeC, Sigillo, Palazzina delle Arti, Etnografico, Diocesano)
Cinque Terre Card rates till November 2022
"Cinque Terre Train MS" 1 day, adults € 18.20
"Cinque Terre Train MS" 2 days, adults € 33.00
"Cinque Terre Train MS" 3 days, adults € 47.00
"Cinque Terre Train MS" 1 day, kids € 11.40
"Cinque Terre Train MS" 1 day, over 70 € 14.80
"Cinque Terre Train MS" Family 1 day € 48.00
Cinque Terre hiking trails
There are plenty of beautiful paths around the five villages and actually even more when heading north. If you check our blog, you'll find several posts with hiking tips and pics, and you'll find a detailed map in your room upon your arrival, and of course, we're always at your disposal for info regarding our paths!
You can also check the Cinque Terre National Park website for more info.