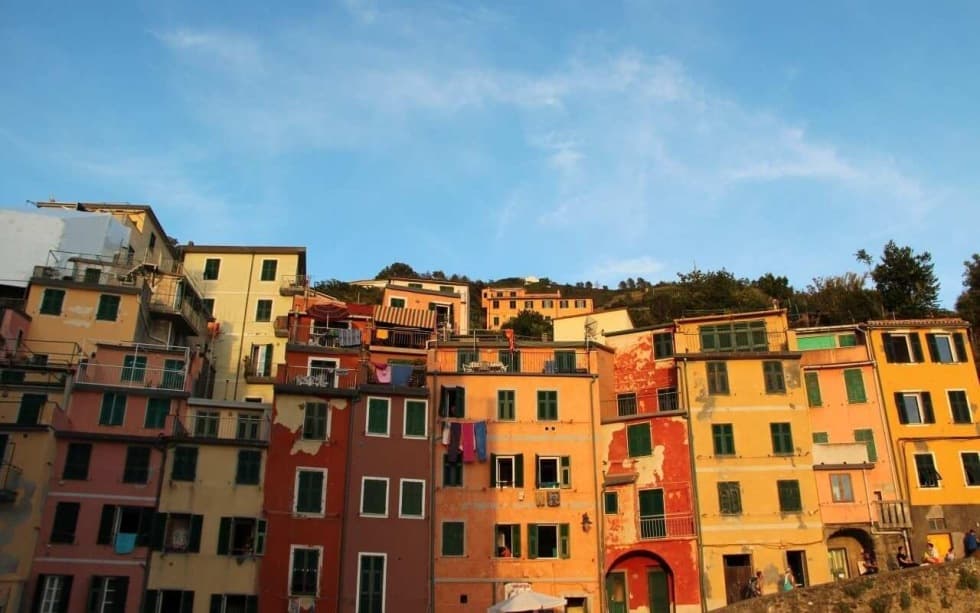 Visiting Cinque Terre from Levanto is the best option! Cinque Terre are a true hiking paradise and excellent food & wine destination and a region any photographer should add to his own bucket list.
Cinque Terre, a UNESCO World Heritage Site, is a stretch of rugged coast in eastern Liguria. It's dotted with five villages: Monterosso, Vernazza, Corniglia, Manarola and Riomaggiore.
Visiting Cinque Terre from Levanto
Over the centuries, the local farmers built robust dry-walled terraces on the slope of the cliffs overlooking the sea to cultivate their impressive vineyards and olive trees.
It's their determination and sacrifice, repeated and carried on generation after generation, coupled with the lack of industrial development and the relative isolation that gave beauty and uniqueness to the Cinque Terre area.
Visiting Cinque Terre by Ferry
The Cinque Terre ferry leaving every morning at 10:00 from La Pietra definitely offers the most scenic option to visit the five villages. Daily tickets can be purchased 15/20 minutes before directly at the pier.
The best thing, in our opinion, is to go to Porto Venere first and stop in the other villages only on the way back. Then, if you want to return to Levanto sooner or later, you can always get the train in any of the Cinque Terre villages (Porto Venere has no train station!). The daily ticket also includes a trip from Porto Venere to Lerici and a tour of the islands.
Visiting Cinque Terre by train
The Cinque Terre Express train is the fastest and cheapest option to visit Cinque Terre, but it runs in tunnels and has no view … there are trains more or less every 30 minutes and the single ticket costs € 4.
The train trips are also included in the Cinque Terre Card, which also includes admission to the museums of La Spezia, the bus service in the Cinque Terre National Park, and free access to the hiking trails. The Cinque Terre Card lasts one, two days, or three days and you can get it at the front desk throughout the day to avoid long queues at Levanto train station.
Hiking in Cinque Terre
As mentioned before, the Cinque Terre National Park and its surroundings offer countless hiking trails and lodging in Levanto. You can walk to visit Cinque Terre…
Upon your arrival into your room, you will find a detailed Cinque Terre map to help you organize your excursions. At the front desk, we have a wide selection of books dedicated to hiking in the region, and we are, of course, at your disposal for information and personalized tips!
Meanwhile, we can already tell you that these are our favorite trails:
the ridge walk which connects Soviore Sanctuary above Monterosso and the Sanctuary of Reggio and Vernazza
the blue trail from Corniglia to Vernazza
the path that leads to Corniglia from Volastra
via Beccara between Riomaggiore and Manarola (for well-trained hikers!)
trail No. 1 between Riomaggiore and Porto Venere
To hike our trails you should wear at least good sneakers!
Visiting Cinque Terre by boat
For an independent visit to Cinque Terre and to fully enjoy the view, we recommend renting a typical Ligurian gozzo here in Levanto and starting your adventure
You only need to contact us, and we'll book a fishermen's boat with shade, ideal also to chill out away from the hustle and bustle of the beach … The fishing boats are approved for a maximum of 6 people and cost 160 € per day (10 am to 7 pm), plus more or less 40 € for the fuel.
Another option is the excellent service offered by the Vernazza Water Taxi, always very appreciated by our guests. Or these pre-arranged Cinque Terre boat tours at sunset or in the morning.
Then, if the romance of a sailing day in the Gulf of Poets tempts you, do not hesitate to contact us, and we'll be happy to organize that as well!
Visiting Cinque Terre by bike
If biking is what inspire you the most to discover the breathtaking views of Cinque Terre, you'll have plenty of choice between MTB downhill trails, road bikes, and also a more relaxing electric bike …
In the "Biking in Levanto and Cinque Terre area" section, we collected lots of information and tips for you to arrange your biking holiday at the Oasi Hotel in Levanto :)
Visiting Cinque Terre by car
Visiting Cinque Terre by car? Well, it is definitely a terrible idea, and we advise you against it. This area is vertical, and from one village to the other, you must drive up and downhill several times. Plus, local roads were actually mule paths and are therefore very narrow and sinuous.
Another big problem with moving by car is the lack of parking spaces. The Cinque Terre villages are tiny and inhabited by a few hundred people, and parking lots – always outside the villages – are obviously proportional to the local human dimension …